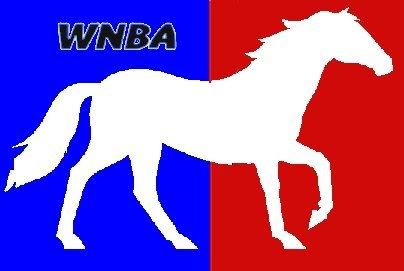 I'm a man of my word. I said if the Phils didn't take two of three from the Rangers, I would disown the Fightin's and take up a blogging interest in the WNBA. Granted, I know very little about the WNBA. I saw
Juwanna Mann
on Comedy Central one time, so I'm not completely oblivious to the league. I will do my best to provide in depth, entertaining coverage. Some interesting topics that I will be blogging on shortly:
1)
David Stern
- Does he fix these games like he does the real basketball league? And can Tim Donaghy get a job here?
2)
Sheryl Swoopes
- She courageously came out of the closet to became a justified hero and icon of the gay community. That is great for her, but is she really gay? It just doesn't seem right. A gay WNBA player? Impossible. What's next, a gay female golfer? No way.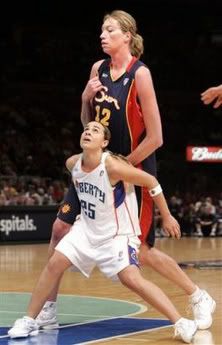 3)
Margo Dydek
- [Pictured at right with traitor to the nation, Becky Hammon] She isn't playing this year because she had a
baby. That's right, somebody hit that. All 7' 2" of it. Possibly on purpose. And it resulted in offspring. I did some calculations and figured out that if her child is a boy, he will be somewhere around eight and a half feet tall. We need to find this kid and get the Sixers to sign him now. They can send him to the D-League for 20 years. So, everyone be on the lookout for a 3 feet tall baby. I'll start by watching Maury Povich show, something tells me he'll pop up there...